Internal Medicine APCs Awarded 2019 Hospice & Palliative Nurses Foundation Annual Assembly Conference Scholarships
Advanced Practice Clinicians (APCs) Abbey Drummer and Brighton Loveday have recently returned back to work with the refreshed glow that can only be achieved by visiting bright and sunny Orlando, Florida. While it's true that all our hardworking Internal Medicine APCs deserve a little rest and relaxation, Drummer and Loveday's visit was not in the pursuit of sun and sand. Their visit to Florida marks a big win for their careers as nurse practitioners, and for University of Utah Health.  
"We are excited to announce that Abbey Drummer and Brighton Loveday have been awarded the 2019 Hospice and Palliative Nurses Foundation (HPNF) Annual Assembly Conference scholarships," says Internal Medicine APC Director, Andrea Schindler. "This year, only eight of these scholarships were granted in the entire country. We are honored that two of them were awarded to nurse practitioners working in our department.  It is a testament to the talented group of APCs we have on the palliative team and across all our divisions."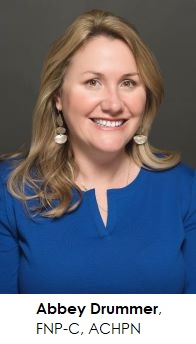 The scholarship allowed Drummer and Loveday the opportunity to attend the Annual Assembly of Hospice and Palliative Care in Orlando, Florida from March 13-16, 2019. This annual three-day event is designed for physicians, nurses, pharmacists, social workers, and advanced practice nurses like Drummer and Loveday who work in the small but quickly growing field of hospice and palliative care. To qualify for the scholarship, applicants needed certification and high level of experience shown through a CV, a detailed essay detailing their excellence in palliative care, and recommendation from a supervisor. 
A passion for education was also noted in their letters of recommendation. "Abbey's passion for educating others is evident and infectious. She is on her way to becoming a seasoned educator," says Martinez. "Brighton is a published author with four peer-reviewed articles to her credit. Notably, she accomplished these while working a full-time clinic schedule." Both Drummer and Loveday will share their passion for education by presenting at the Palliative Care and Hospice Symposium on Friday, April 19. 
Holli Martinez, APC Director of the Supportive & Palliative Care Program and supervisor to both Drummer and Loveday, had nothing but praise and support for her colleagues. "Their letters of recommendation really wrote themselves," she says. "I can't think of two more qualified candidates to receive this scholarship. They are dedicated to their work, and represent both the University of Utah and Huntsman Cancer Institute to the highest degree."  
They will also be sharing what they learned from the conference at the Symposium. "One of the most important reasons I wanted to attend the conference was to get hospice and palliative care updates on a national level," Drummer says. "We are such a small healthcare field, so there is not a lot of published data readily available. The conference allowed me to learn the newest and most current trends in our field, and I am excited to share this information with our colleagues at the University of Utah." 
An integral part of the conference was the ability to meet and connect with new colleagues from across the country. Loveday was also interested in meeting those a bit closer to home, so she organized a special dinner for attendees specifically from Utah. "Whether they are a national colleague or a regional colleague, I wanted a chance to network and highlight the important work that the Supportive & Palliative Care team has accomplished," she says.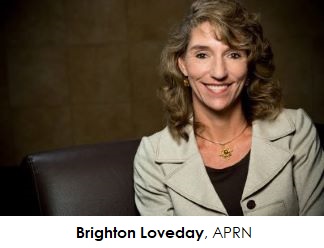 The Supportive and Palliative Care Program was created in 2018 after a merge between University of Utah's Palliative Care Service and Huntsman Cancer Institute's Supportive Oncology & Survivorship team. The goal of this newly created team is to provide support, communication, and symptom/pain management for patients with advanced illnesses. "The coming together of these two successful teams truly represents a sophisticated, integrated and now unified approach to caring for people with serious illness," says Martinez.  
Both Drummer and Loveday are looking forward to attending the HPNF Annual Assembly in the future, but for now, they are focused on doing what they do best: providing the best possible care for their hospice and palliative care patients. To Drummer, being a nurse practitioner in this field is more than just a job – it's being a part of someone's life in a very unique way. "It is an honor to be present in a patient's final moments," she says. "It is an honor to be a part of the last-minute rituals, those intimate and tender moments between a patient and their families. That's why I come to work every day – to help people to have those moments in their time of need."