Division of Rheumatology Pilots MD/MA Teams to Improve Patient Care and Improve Job Satisfaction
The Division of Rheumatology has continued to respond to an unprecedented volume of requests for new patient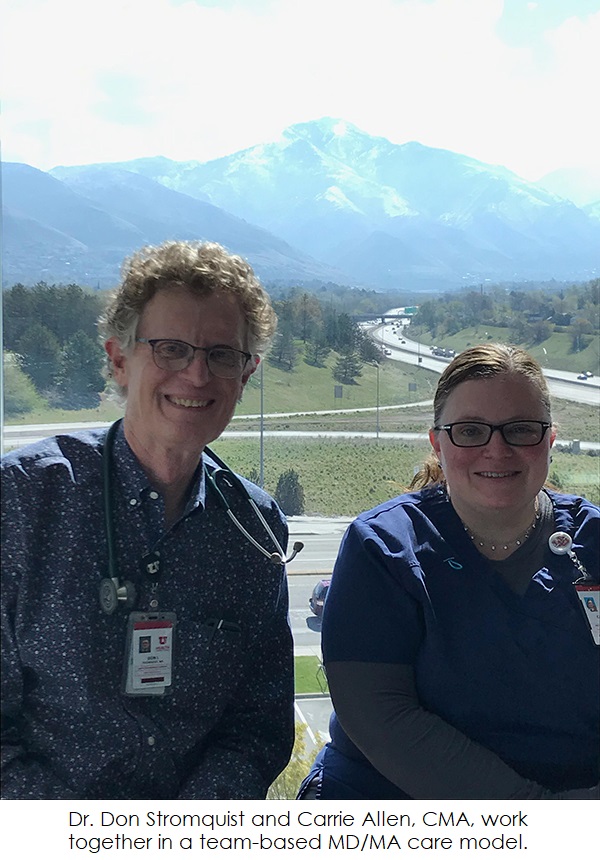 evaluations and has providers distributed across four locations. A team-based approach was previously described – in brief, this team consisted of 4-5 physicians, with a dedicated core of medical assistants focused on the needs of this subset of the larger division. The success of this model was apparent – smaller healthcare teams improved efficiency, job satisfaction, and work wellness.
Recently, the needs of the full-time clinician have come to the forefront. These providers have both the highest number of patient encounters each week, and the least amount of non-clinical time to complete inbox work for their large panel. Maximizing the efficiency of these providers is crucial for their well-being, for ensuring excellent patient care, and for assisting in meeting the productivity goals of a division.
Rheumatology has taken the team-based model further, and is currently piloting a 1:1 MD/MA team for full-time providers. With a dedicated MA for the full time provider, the working relationship will build upon the gains seen in the team model. The close working relationship, greater knowledge of practice styles, and further improved communication lines have enabled the 1:1 MD/MA team to be highly successful. Patient message response time has dropped, acute needs are rapidly identified, and the provider's clinical time is less disrupted as inbox issues are streamlined by the assistant.
While a work in progress, the well-being and efficiency of a full-time provider is paramount to the functioning of a busy academic subspecialty. As burnout is increasingly recognized, working relationships can improve job satisfaction and retention.
The Division of Rheumatology continues to pilot innovative approaches to clinical care, and this pilot has been successful for the patients, the provider, and the medical assistant. This model provides a foundation for supporting the clinical needs of our physician.